Article originally posted on www.erieinsurance.com

(opens in new tab)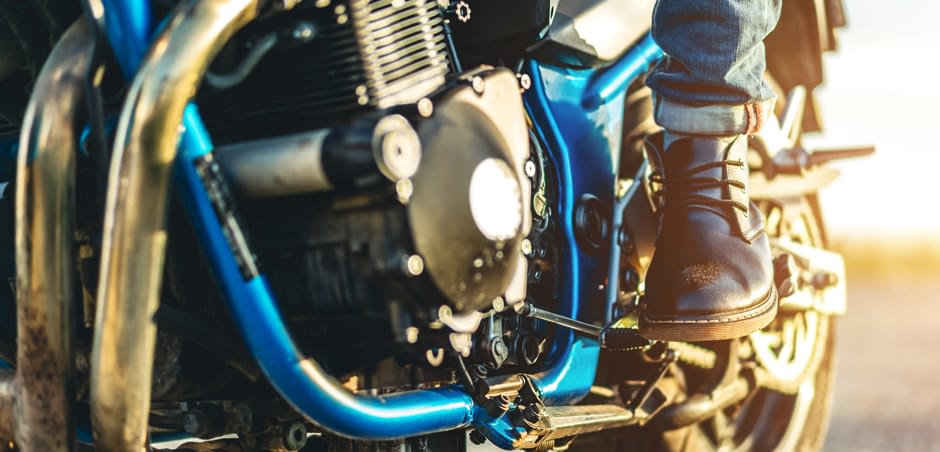 What's Your Riding Style?
The best bike for you will largely depend on what you want to do with it. Are you going to take your motorcycle on long cross-country trips, enjoy weekend back road cruises or commute around town? Understanding the type of riding you intend to do can help you narrow your options. Some of the most popular motorcycle categories include:
Standard: These multipurpose bikes are a great option for new riders. Available in a wide range of engine sizes, they feature a more upright riding position and can work for both touring and commuting.
Cruiser: Think of your typical Harley-Davidson®. Cruisers feature a low seat height and a more laid-back riding position. This makes them perfect for both weekend joyrides and trips around town.
Sport bike: Known for their speed, nimble handling, and aerodynamic styling, sport bikes are a good choice for riders who want the ultimate thrill. But keep in mind, their forward-leaning riding position, tall seat height, and aggressive acceleration can be intimidating to new riders.
Touring: If you plan to spend hours on the road, you'll appreciate the comfort of a touring motorcycle. The large, wide seats and full fairings make it easy to tackle more miles. But all that comfort can also make for a hefty bike and a higher price tag.
Dual sport: These enduro bikes are at home both on the pavement and when going off-road. Think of them as a sort of street-legal dirt bike. They're a good option if you'll ever venture off the beaten path.
How Does It Fit?
Depending on your size, you'll want to consider the bike's seat height and overall weight. The ability to firmly place both feet flat on the pavement will help boost your confidence and will drastically reduce your chances of tipping the bike at a stoplight. And, as a general rule, lighter motorcycles will be easier to control.
How Much Power Do You Need?
Regardless of what style of bike you choose, it will likely come with a wide range of engine options. A motorcycle's engine is measured by the combined size (or displacement) of its cylinders in cubic centimeters and is abbreviated as "cc." To save you the detailed technical explanation, just keep in mind that the larger the number, the more powerful the engine will be.
Basic beginner bikes can have engines as small as 125cc. Meanwhile, the most powerful motorcycles on the market can have engines that are over 2,000cc.
According to the Motorcycle Legal Foundation, the 600cc engine size is a good starting point for beginner riders. Buying a smaller bike can be helpful while you're learning, but you'll quickly outgrow it in the search for more power. On the other hand, bigger bikes can leave beginners with more horsepower than they can comfortably handle.
What's Your Budget?
Like cars, motorcycle prices can vary widely. Expect a brand-new bike that's fit for a beginner to set you back somewhere between $5,000 to $10,000. You'll pay less for a used motorcycle, while a top-of-the-line touring bike can cost $40,000 or more.
What Maintenance Will Be Required?
When buying a motorcycle, you'll also want to factor in the cost of maintaining it. Expenses like tires, oil changes, spark plugs, and chains can add up. As you narrow in on the bike of your dreams, do some research on its recommended maintenance procedures, service intervals, and reliability. This will help ensure you won't have any surprise repairs or unexpected service appointments.
How Well Can You Ride?
We've all heard horror stories of someone dumping their brand-new motorcycle while pulling out of the dealership parking lot. Save yourself the potential harm—and embarrassment—by taking a riding course in advance. Organizations like the Motorcycle Safety Foundation regularly host courses to help beginner riders develop their skills. They even provide bikes and helmets.
Do You Need to Buy Any Gear?
Don't forget to budget for riding gear. At a bare minimum, you'll want to buy a DOT- or Snell-certified helmet. But you should also consider items like a riding jacket, gloves, and boots. Not only do these items make riding more enjoyable, but they can also save your skin (quite literally) in the event of an accident.
Have You Shopped for Motorcycle Insurance?
When buying a bike, you'll also need to shop for a motorcycle insurance policy. At Erie Insurance, our motorcycle coverage1 gives you great protection, including coverage for damage to your accessories, gear, and safety apparel. And our new motorcycle insurance rates offer the lowest possible cost for the safest drivers on the road. Insuring your motorcycle with ERIE means:
Your gear and safety apparel are covered (including your helmet, riding boots, and even protective eyewear)2
Your special touches are covered, too (like custom paint, chrome, saddlebags, and more)
Medical coverage can also help pay your covered injury expenses (ask your agent how to add this to your policy)
You can choose to add roadside assistance, should your bike ever leave you stranded (believe us; it's worth the small cost)
You get a 12-month policy that protects your ride all year long
Are You Ready to Hit the Open Road?
If you already have ERIE auto insurance, it's easy to add your motorcycle to your existing auto policy.3 You'll get the convenience of one policy and one bill, all with fewer worries.
Not an ERIE customer? We'd love to get to know you and your bike. Talk to your local ERIE agent today to get a free quote.
1. Not available in New York and North Carolina. Medical payments coverage is available in North Carolina. See individual policies for specific coverage details. Certain terms and limitations may apply. Refer to our disclaimer for additional information.
2. The coverage limit is $3,000 ($1,000 in NC). You have the option to increase coverage to exceed the standard limit. An additional premium would be required.
3. Not all auto coverages apply to motorcycles endorsed onto an ERIE auto policy. Contact a local ERIE agent for more information.
There's nothing like the freedom of the open road, with the feeling of wind in your face and the sound of a rumbling V-twin engine.
It's a sensation that attracts millions of Americans to jump on their motorcycles each year. But when making the decision to buy your first bike, there are a lot of factors to consider.
To help you get started on your journey, we've answered some of the most common questions new riders have when searching for their perfect motorcycle.

A better insurance experience starts with ERIE.
Haven't heard of us? Erie Insurance started with humble beginnings in 1925 with a mission to emphasize customer service above all else. Though we've grown to reach the Fortune 500 list, we still haven't lost the human touch.
Contact Greater Choice Insurance today to experience the ERIE difference for yourself.
Filed Under: Car Sense