Article originally posted on www.erieinsurance.com

(opens in new tab)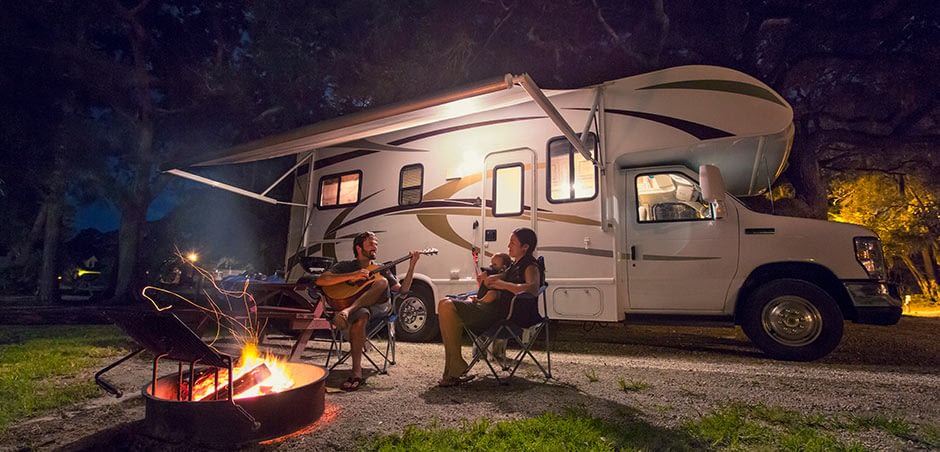 The idea of an RV camping trip can have you daydreaming for days. I bet you can already smell the musky smoke and pine needles from the late-night campfire; taste the charred burgers; feel the rush of pride when you catch more fish than Uncle Bob.
No matter what your ideal camping trip looks like, Ohio is a great state to make it happen. To ease your planning process, we have built a list of our top five RV campsites in Ohio, including both parks and resorts.
Before you load up the RV, make sure you have the right auto insurance to protect the vehicle that makes it all possible.
Evergreen Park RV Resort (Dundee, OH)
When you pull up to Evergreen Park, you will be welcomed by its mellow countryside and extravagant amenities. Get ready for an all-inclusive experience tailored to both the outdoorsy camper and luxurious glamper. You will find hiking trails and cool lake breezes alongside waterfall hot tubs and heated showers.
Located in Ohio's largest Amish community, Evergreen Park is full of exciting activities. If you are in the mood for fishing or swimming, join the crowd around the two large ponds. Or perhaps you're craving seasonal entertainment; check the calendar for annual events like the Fall Festival. Then, once you've worked up an appetite, grill some hot dogs over the fire or enjoy any of the homestyle Amish restaurants available throughout the vicinity.
Berlin RV Park (Berlin, OH)
Sometimes you need to escape the pace of modern life. At Berlin RV Park, you will find a quiet spot to lay out your picnic blanket, soak in the sun and make a dent in that novel you started three summers ago.
The Berlin campground is the Amish country's newest campground, located on the west edge of Berlin. The campsite offers brand new facilities, free Wi-Fi and 30/50-amp services. Pick fresh spices and herbs at the onsite herb garden or walk two miles to downtown Berlin for restaurants and shopping. Guests are also encouraged to bring their pets to the camp because who doesn't want to share the fun with their furry friends!
Cutty's Sunset Camping Resort (Louisville, OH)
There is no shortage of campfire tunes and lively entertainment at Cutty's Sunset Camping Resort. Cutty's is nestled in the heart of the Amish Country, close to the Maize Valley Farm Market and Winery, Hartville Flea Market and the Football Hall of Fame.
This family-owned resort offers full-service facilities and ongoing activities that entertain all ages. Daily and nightly entertainment includes scavenger hunts for kids, outdoor movies for teens and poker nights for adults. You will also find live music on the weekends that pairs well with the onsite snack bar. Cutty's is a terrific camping site for those seeking a family friendly, relaxed environment.
Lighthouse Point at Cedar Point (Sandusky, OH)
Step outside your RV and you are at the doorstep of the famous Cedar Point Amusement Park. Then, look toward the coast and your eyes will be captivated by the brilliant blue of Lake Erie. The conveniently located Lighthouse Point campsite is the spot for adventurers who like to be at the center of all the action.
Lighthouse Point was voted one of the "9 Most Beautiful RV Campgrounds in the U.S" by Travel and Leisure Magazine and features full hookups. Go for a thrill ride at the amusement park, sip a margarita by the beach or soak in a hot tub onsite. To top it off, campers receive an hour of exclusive amusement park entry and discounted ticket packages!
Mohican State Park (Loudonville, OH)
Get ready to stay in the splendor of natural beauty. Mohican State Park is 110 acres of wild landscape with views of winding rivers and towering forest trees. A few of the most popular seasonal activities include fishing along Mohican's streams and hunting in the surrounding Mohican-Memorial State Forest. You can also enjoy gem mining for a small fee.
Mohican is located on the south shore of Pleasant Hill Lake and offers many nearby activities. You can explore Pleasant Hill Lake, various bridle trails, and the 25-mile Mohican Mountain. Mohican also offers full hookup, electric, and non-electric campsites for your RV.
Get a Quote for RV Insurance
Camping is a fun way to connect with nature and your loved ones. See how RV Insurance from Erie Insurance can help ensure your camping fun continues by protecting your investment and keeping you safe.
Plus, if you add your RV or travel trailer to your ERIE auto policy you get the convenience of using one insurance company and dealing with just one bill. You may even be eligible for extra discounts. To make sure you get the coverage you need, talk to your local ERIE agent for details.

A better insurance experience starts with ERIE.
Haven't heard of us? Erie Insurance started with humble beginnings in 1925 with a mission to emphasize customer service above all else. Though we've grown to reach the Fortune 500 list, we still haven't lost the human touch.
Contact Greater Choice Insurance today to experience the ERIE difference for yourself.
Filed Under: Car Sense