Article originally posted on www.erieinsurance.com

(opens in new tab)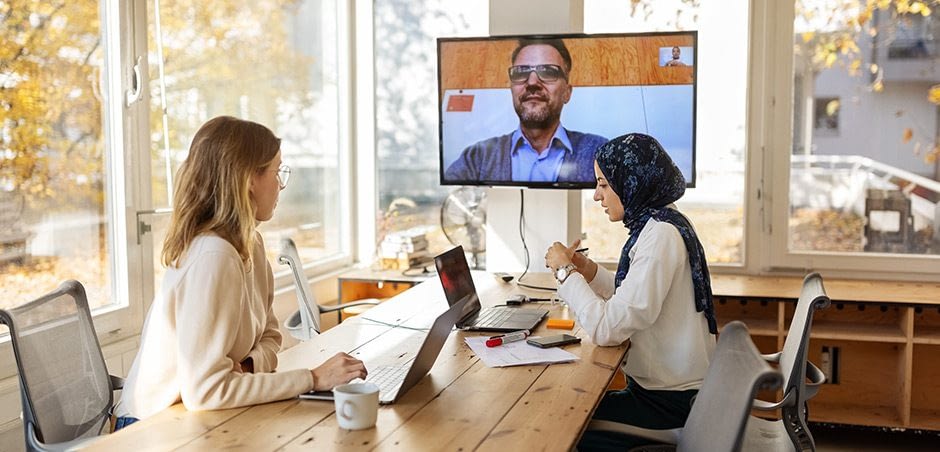 In early 2020, the COVID-19 pandemic led to the widespread closure of offices and workplaces across the world. Many employees learned something during this unprecedented time – that it was possible for their work to be done remotely from home.
Of course, telework is not an option for every job or every company. According to a recent study conducted by the Pew Research Center, 62% of workers with at least a bachelor's degree education say their work can be fully done from home, yet only 20% worked from home before the pandemic.
During the pandemic, though, employers took advantage of work-from-home options to keep productivity up. Six months into the pandemic 71% were still working from home.
After months of enjoying the benefits of remote work – such as a more flexible schedule, better work-life balance and less time spent commuting – the Pew survey found 54% didn't want to return to the office full time.
Is Full-Time Remote the Answer?
While some employees still desire fully remote options, working from home isn't always a perfect solution. As we've learned, video conferencing and instant messaging isn't a substitution for real face-to-face interaction. Some tasks can be difficult to complete remotely. And the same study found 57% of employees who work from home all or most of the time say they feel less connected to their coworkers.
To balance these concerns and maintain a positive workplace culture, many employers are adopting a new hybrid work model – one that combines working from home and the office. Below, we'll explain the benefits of hybrid work, as well as some potential risks you may want to consider as a business owner.
What is a Hybrid Work Model?
A hybrid work model is one where employees split their time between working from home and working onsite at a company-owned location. How an employee's schedule is structured will vary from business to business. Some companies opt for a set schedule of remote work and in-office days. Others may let the employee work from home at their discretion, giving them the freedom and flexibility to set their own schedule.
What are the Benefits of Hybrid Work?
As a business owner, the hybrid work model has its share of benefits:
More productivity.

For a long time, managers have struggled with the idea of employees working from home because they assumed productivity would suffer. But multiple studies have found the opposite to be true. Free from the distractions of a traditional work environment, and given the flexibility to work how and when they want, remote employees are often found to be more productive at home.


Lower costs.

In a hybrid work model, you no longer need a dedicated workspace for every employee. Instead, you can have flexible desk spaces that anyone can use when they're in the office. In the long term, this means you'll need less space (think lower rent or lease payments). Plus, there's the money you'll save on things like office furniture, utility bills and office supplies.


Higher employee satisfaction.

With more and more of the workforce wanting to work remotely, a hybrid work model can help you attract and retain employees. And since employees will still come to work at least part of the time, you may also reduce the feelings of loneliness and isolation that sometimes accompany full-time remote work.
What are the Insurance Risks of a Hybrid Work Model?
In many ways, moving to a hybrid work model may seem like the best of both worlds for some business owners. But when it comes to your business insurance, it may open you up to twice the risk, too. Here are some potential insurance risks for the hybrid workplace.
Workplace injuries:

You probably take steps to reduce the risk of workplace injuries at your physical office or facility. Whether that's ensuring walkways are clear, or setting up your workstations to be ergonomically friendly, most employers do their best to keep everyone safe. But when your employees are working from home, their work environment is no longer in your control.

To reduce this risk, talk to your employees about the importance of work-from-home ergonomics

, and encourage them to work from a dedicated space – not the couch or kitchen table.
Cyber security:

Each year, the number of data breaches are on the rise. As an employer, you take steps to protect your network within the walls of your physical office. But what happens when your employees access sensitive data from a home or public network? If they're not careful, it could leave you vulnerable to a cyber attack.

To help prevent hackers from accessing your data, talk to your employees about the importance of cyber security. Require an encrypted connection when remotely accessing any sensitive files, and make sure your staff keeps their software and operating systems up to date.



Want actionable items you can check off the list now? Read

6 Quick Tips to Protect Your Business Data

.
Property damage:

If your employees are taking company equipment back-and-forth between work and home, you should make sure that equipment is covered – under your business insurance or the employee's homeowners policy. While many insurers are adapting their policies based on the growing popularity of remote work, every policy is different. And if your assets aren't covered, you could find yourself out of luck in the event of an accident.
What Insurance Coverages Should I Consider for a Hybrid Work Model?
If you're thinking of adapting your business model to accommodate hybrid workers, it's a great time to check in with your local Erie Insurance agent. Your agent can give you specific advice on the risks and coverages unique to your business. But here are some coverages you'll want to ask about.
Business insurance:

If employees will be working from home, ask your agent if your

business insurance policy will cover property damage at a home office. If your current policy doesn't include this coverage, it may be available for purchase.


Workers' compensation:

Did you know that if an employee hurts themselves while working at home, your

workers' compensation

could kick in? "Each state has its own laws, but if an injury happens during the course and scope of their work, it could easily be a workers' comp claim," explains Al Medofer, ERIE's director of risk control. Your agent can help you understand the ins and outs of your coverage, and ensure you're protected no matter what.

Read this article for more information on what to know about workers' compensation and working from home.



Data breach coverage.

All businesses are vulnerable to cyber attacks and data breaches. Enter ERIE's Cyber Suite1, which offers both first- and third-party coverages for things like data breach response expenses, cyber extortion and privacy incident liability.

Business umbrella insurance:

No matter how careful you or your employees are, mistakes and accidents unfortunately do happen. That's why many business owners make the smart decision to protect themselves with extra business liability insurance. Known as

Business Umbrella Liability

, this additional layer of coverage gives you extra protection and peace of mind above and beyond your commercial general liability, professional liability, business auto liability and employers liability insurance.
Is Your Business Protected?
You've worked hard to build your business. At ERIE, we're here to help you protect it. Contact us today to learn more about business insurance that's tailored to your unique needs.
1Cyber Suite is only available to Customers with an ErieSecure Business® policy. Cyber Suite coverage and associated services reinsured under an arrangement with the Hartford Steam Boiler (Home Office: Hartford, Connecticut). © 2021 The Hartford Steam Boiler Inspection and Insurance Company ("HSB"). All rights reserved. This document is intended for informational purposes only and does not modify or invalidate any of the terms or conditions of the policy and endorsements. For specific terms and conditions, please refer to the coverage form. Coverage not available in New York.

A better insurance experience starts with ERIE.
Haven't heard of us? Erie Insurance started with humble beginnings in 1925 with a mission to emphasize customer service above all else. Though we've grown to reach the Fortune 500 list, we still haven't lost the human touch.
Contact Greater Choice Insurance today to experience the ERIE difference for yourself.
Filed Under: Business Sense
|
Tagged With: Business Insurance